Bill Scott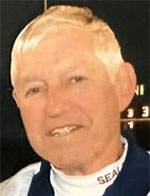 Name: Bill Scott
Class: 2023
School: Selinsgrove
Bill Scott came to Selinsgrove in 1972 and spent 36 years as the Head Football Coach. Through the years Coach Scott achieved the mark of being the winningest football coach in Selinsgrove Area High School history with 267 wins. Coach Scott also had 34 wins at Warrior Run and Elkton, Maryland, High Schools, which gave him a career total of 301 total wins. Coach Scott's Selinsgrove teams amassed a total of 14 league championships and 9 District 4 championships (which did not start until 1987). His teams also made 6 PIAA playoffs appearances. Coach Scott was very well respected by his peers, as he was a 2002 inductee to the Pennsylvania State Football Coaches Association Hall of Fame. Most people will cite wins when judging a football coach, but Bill Scott's legacy goes far beyond that.
For 36 years, Coach Scott built a program that had everything it needed to produce some of the best football teams in the state of Pennsylvania. While most coaches see value in scheduling and accumulating wins, Coach Scott took the road less traveled. He consistently scheduled the toughest teams in the state to fill the Seals Football schedule. Bill Scott's success was due, in part, to his philosophy that his Selinsgrove teams will play the best competition in the state and will be successful. This philosophy vaulted the Seals program to many championships and it created the big game atmosphere that we all experienced again and again at Harold L. Bolig Field.
Coach Scott did not just have a positive effect on the football program, but all sports at Selinsgrove, as he pioneered the very first Power Weights Program for all athletes at Selinsgrove Area High School. In its day, Coach Scott's Power Weightlifting Program was a state-of-the-art developmental program that had universal appeal for all Seals athletes, as almost all male and female athletes were able to take it throughout their years at SAHS. This resulted in ALL Selinsgrove athletic programs being bigger, faster, stronger and better, and our athletes were better able to prevent injuries and get this vital part of their training done during school hours.