Jim Roth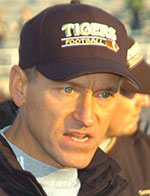 Name: Jim Roth
Class: 2023
School: Southern Columbia
The leader of the Southern Columbia Football Factory doesn't need much of an introduction. Anyone familiar with sports played on the gridiron across the state of Pennsylvania knows the name Jim Roth. Since taking over the Tigers as the head coach in 1984, he has had the highest winning percentage of any coach in the United States throughout his career. His most historic win, fittingly in the 2020 PIAA Class 2A State Championship, broke a tie with the late Bulldog legend George Curry for the most career coaching victories in state history.
That win, his 456th, is also the most in the Keystone State even when including college or professional football teams. Even more impressive than his now extended record of wins, 13 PIAA Championships, 21 state final appearances, and 29 District IV crowns, is his consistency throughout his tenure.
In the 39 seasons he has coached the black and gold, not a single time has a Southern Columbia football team finished a season with a losing record. Since the PIAA Football Championships began in 1988, Roth's Tiger squads have remarkably reached the state final in more than half of those seasons. Roth's career record currently stands at 484-67-2.
In 2018 and 2019, Southern Columbia was selected by High School Football America as the Small School National Champions. In 2020, Southern Columbia was picked for a third consecutive season as the HSFA National Champions.
Additionally, the Tigers were crowned as the 2020 MaxPreps Small School National Champions and Roth was chosen by the organization as the MaxPreps National Coach of the Year.