Joe Diminick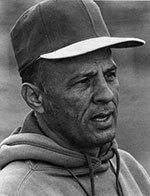 Name: Joe Diminick
Class: 2023
School: Mount Carmel
Joe "Jazz" Diminick was the head football coach at Mount Carmel Area High School from 1962 through 1992, a total of 31 years where he posted a 267-81-7 record. He led the Tornadoes to 3 Eastern Conference Championships in 1969, 1972, and 1973, 5 Southern Division Championships in 1968, 69, 70, 72, and 73, and Eastern Conference playoffs in 1983, 84, 86, 89, and 91, and a District XI Silver medal in 1988. His overall coaching record stands at 290-96-9, and his 290 wins was the most by any coach in Pennsylvania at the time of his retirement in 1992.
Coach Diminick began his football exploits as a star halfback at Kulpmont High School, graduating in 1946. He went on to Boston College and was named All-East and All-American Honorable Mention in 1948 and 1949. A stint with the New York Football Giants was cut short due to injury.
Coach Diminick produced 8 first team all-state players (at a time when there were only one or two all-state teams) and 15 Big 33 players. His teams won 10 or more games on 10 occasions and produced three unbeaten football squads. More than these accomplishments, Coach Diminick placed Mount Carmel on the map as a football power and was at the helm when the Tornadoes became the winningest team in the state of Pennsylvania, where it currently remains today.
Coach Diminick was inducted into the Ed Romance Chapter of the Pennsylvania Sports Hall of Fame in 1987, the Pennsylvania Sports Hall of Fame in 1988, the Boston College Sports Hall of Fame in 1989, the PSFCA Hall of Fame in 1991, and the National High School Sports Hall of Fame in 1995. Coach Diminick and his wife, Ann Louise, are the proud parents of six sons, who all starred at MCA. They include: Gary, Ken, Joseph, Edward, John, and Mike.