Ken Robbins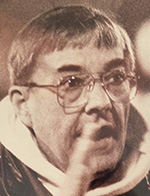 Name: Ken Robbins
Class: 2023
School: Loyalsock
A member of the Pennsylvania Coaches Hall of Fame from the 1998 class, Kenneth M. Robbins graduated from Williamsport High School in 1959 and matriculated at Bloomsburg University. He earned a master's degree in special education at Bloomsburg University as well as Bucknell University. While in college Ken was a four-year starter and captain. Ken married the former Connie A. Nallo and they were blessed to have two children and multiple grandchildren.
His coaching career began as an assistant coach at Loyalsock Township High School in 1963. He then coached for Bob Gimble at Williamsport High School until his return to Loyalsock as a Guidance Counselor and Head Football Coach in 1969. As the head coach of the Lancers football team from 1969 until 1993 he compiled 175 wins, 6 West Branch League Championships, and a District Championship in 1988. He coached multiple athletes to all-state careers as well as assisted in placing them at the next level. At Loyalsock he also held the role of athletic director for 28 years. Coach Robbins was named conference coach of the year 5 times, coached in the Big 33 Football Classic, and was the first coach of the District IV All-Star Game. Coach Robbins was also an essential leader in the creation of the District IV Coaches Association as well as a President of the PFSCA.
More so than anything else Coach Robbins is known as a player's coach. He was a father figure and mentor to all who played at Loyalsock during his tenure. Words of wisdom, motivation, or comfort were constant in his work with his students and players. His strong reputation can also be evidenced in his large coaching tree. Many assistants as well as players have gone on to become successful head coaches. Fittingly both of his sons went on to have highly successful coaching tenures with Jeff having coached at Loyalsock and Craig having coached at East Pennsboro. His legacy was memorialized at Loyalsock Township as the Stadium now bears the name Kenneth M. Robbins Memorial Stadium.