Ray Raffin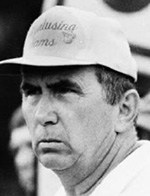 Name: Ray Raffin
Class: 2023
School: Wyalusing
Raymond Raffin graduated from Moshannon Valley High School in Madera, PA in 1958 where he earned nine varsity letters in football, basketball and baseball. A 1962 graduate of Lock Haven State College with a B.S. in Health Education, he was a member of the Bald Eagles football team for four seasons.
After serving as an assistant to Karl Schnure for four years on the WVHS football staff, he was elevated to the head coaching position in 1966 and served continuously in that capacity for 35 seasons until his retirement in 2001. His football teams had a record of 205-145-7, and they won a total of 11 Northern Tier League Championships and one District IV title. They have been postseason district playoff qualifiers nine times and have reached the district finals on five separate occasions. In addition, the Rams, under Coach Raffin, captured Eastern Conference Championships from 1993-1996.
In the early 1980s Coach Raffin's Wyalusing teams produced a 25-game winning streak, at the time a Northern Tier record, and they were named by the Star-Gazette as the "Twin Tiers Team of the Year" in 1983. Raffin was named Northern Tier League "Coach of the Year" six times, and he was also named the Twin Tiers "Coach of the Year" in 1993. He served as an assistant coach for the East squad in the 1983 Big 33 Football Classic, and he was the head coach of the North in the 2000 District IV All-Star game.
Coach Raffin was inducted into the Northeastern Regional Pennsylvania Sports Hall of Fame in 1997, the PSFCA Hall of Fame in 2000 and most recently to the Lock Haven University Football Hall of Fame as a member of the 1960 Western Conference Championship team. Coach Raffin has been married to the former Mary Ann Kokal for 52 years. They have a daughter, Michele, and two sons, John and Karl.